Your #1 Plumber Servicing Twin Waters | FIXME Plumbing
Do you have leaking taps or blocked drains? Do you need a leak detected or a drain unblocked? FIXME Plumbing can help with all your plumbing needs.
If you're struggling with a blocked drain, we can take care of it with our specialised equipment and clear the problem for you.
At FIXME Plumbing, we aim to provide you with a fast and effective solution to your blocked drain problem and ensure that you and your family can get back to your daily routine, with minimal disruption. We are also able to offer you upfront costing, quality workmanship and a professional, friendly service.
At FIXME Plumbing, our qualified blocked drain specialists call upon our years of experience combined with the latest technology to solve the cause of your drain blockage rather than just addressing the symptoms.
We have over 30 years in the business of plumbing and gas fitting, and plumbing is in our blood. FIXME Plumbing are a family owned business operating in Sippy Downs, on the beautiful Sunshine Coast.
Our business specialises in Plumbing Maintenance. We pride ourselves on running a professional business and are ready to serve all your maintenance needs.
What our clients has to say.....
Testimonials
Fraser is an excellent plumber that doesn't cut corners. It's refreshing to have someone reliable and trustworthy to help out with all my plumbing needs. Cheers mate!
Justin Zehner
Zehn Electrical
Very good plumber most impressed with Fraser's ability with quick response to my plumbing issues and also helped me out with a gas leak, good service and fair pricing, I can recommend FIXME Plumbing for your Plumbing and Gas.

Neil Dickinson
North Coast Auto Brokers
Harrys Property Management engages FIXME Plumbing for all plumbing issues. Fraser is brilliant! He is very good at his craft, takes professional pride in his work, has a great rapport with tenants, is incredibly responsive with work orders and quote. I would highly recommend FIXME Plumbing whether you are looking for a one-off job or are needing a plumber on a regular basis for all those pesky maintenance issues.
Liza Southern
Harrys Property Management
Fast & Efficient - Blocked Drain Clearing | CCTV Camera Inspection in Twin Waters. Call 0434 685 009.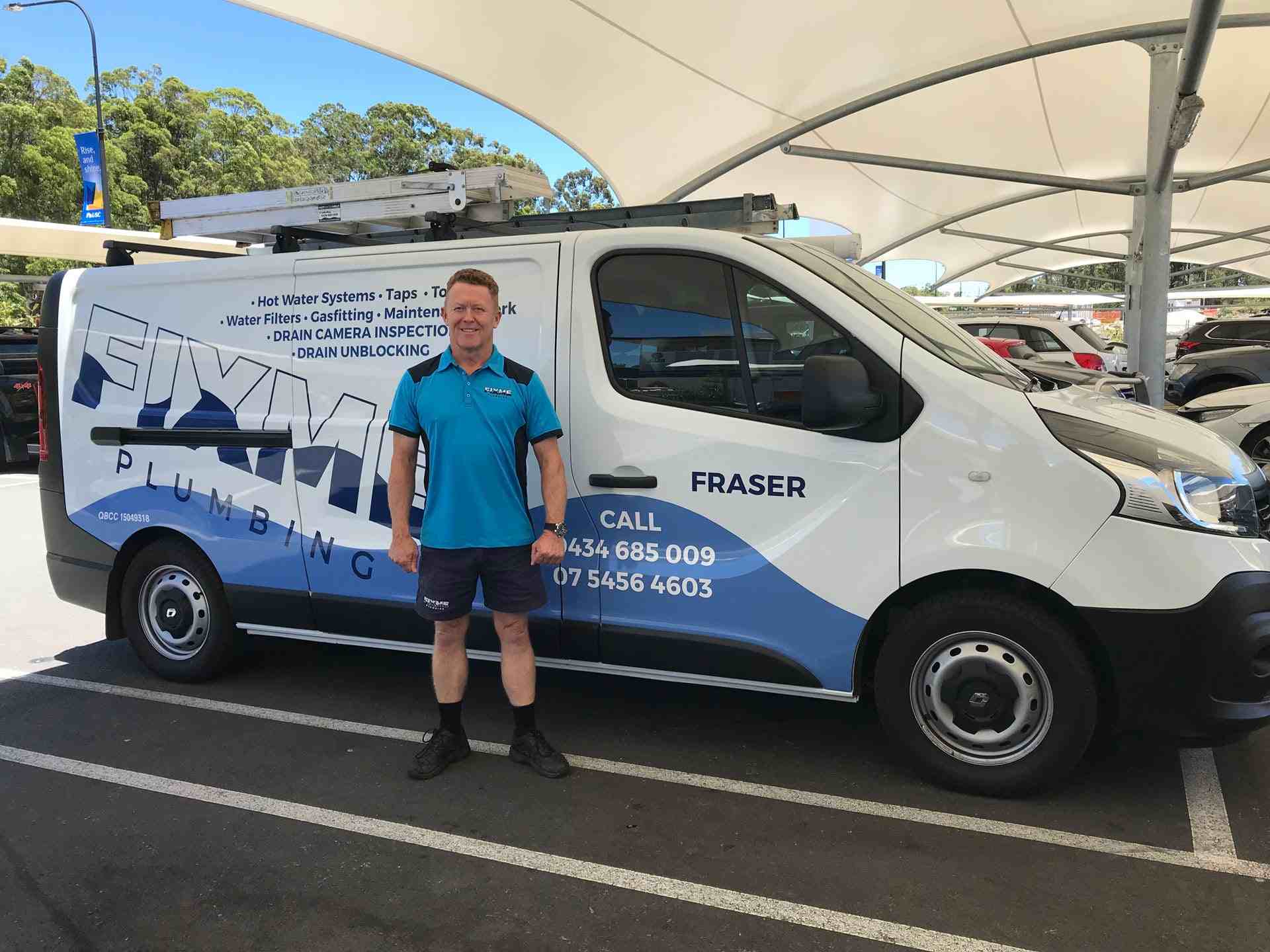 Drain Problem? Blocked Toilet?
Is your toilet backing up? Do you have sewage overflowing from your outside drain? Are your drains running slow and gurgling? If so, you probably have a blocked drain.
Blocked drains can be caused by several reasons, but the fact remains that there's no such thing as a quick fix – that's a job best left to the experts. At FIXME Plumbing we have specialised equipment that enables us to pinpoint the exact cause of your blocked drains, allowing us to take the appropriate action and provide you with the best advice for prevention and maintenance going forward.

QBCC Licenses: 1201631, 15049318, 28795
Gas Works License: L31301
Blue Card: Working with children
Phone: 0434 685 009
Emal: info@fixmeplumbing.com.au