Servicing Wanneroo and the surrounding areas. We are your local renovation specialist.
Bathroom & Laundry Renovations - Competitive Pricing - Request A Quote
Top Level Plumbing Solutions - Local Bathroom Renovation Specialist in Wanneroo
Here are the important factors to consider when planning for your bathroom remodel:
Materials: Your bathroom remodel cost will largely depend on your choice of bathroom materials. For example, a bathroom sink can range in price from $30 to $1500. We offer a broad selection of vanities to ensure you will be able to find something you love no matter your budget.
Labour: The cost of labour can vary across bathroom remodel contractors, as well as projects, and it tends to be a significant factor in any remodel project. Our network of licensed and professional tradesmen will provide you with a free in-home estimate, including a complete and transparent view of our labour costs, to help you prepare your budget.
Bathroom Size: The size of your bathroom will directly impact your remodel cost. Many materials, such as floor tile, are priced per square foot. Also, the larger the room, the more labour is required. If you're considering enlarging your bathroom, make sure you have a good idea of the future size to share with your design and contractor services for pricing.
Customisations: Any customisations will add to the cost of your remodel project. For example, prefabricated cabinets will cost a lot less than custom-made cabinets. While customisation can make your bathroom unique, if you want to reduce your budget, you should keep them to a minimum.
Budget: One of the best ways to keep your costs under control is to come up with a budget in advance and stick to it. Be aware that unexpected problems and costs can occur, so any budget should include a contingency. We recommend setting aside an extra 10% to make sure you're covered for any unfortunate surprises.
Trends: There are always home remodelling trends in the marketplace. If you are remodelling with the intent to sell your home, you should keep in mind what is popular in your area. If you're not selling right away, you also need to make sure the trend is something you love and that will not likely change in the next year or two. After all, if you need to do a second remodel soon, due to a changing trend, this will have a significant impact to your long-term costs.
Additional Costs: Depending on the scope and nature of your remodel, there may be extra costs such as permits. We encourage you to check with your city government, so you are aware of these costs in advance and can factor them into your budget.
BATHROOM MAKEOVER | BATHROOM REPAIRS | LAUNDRY RENOVATIONS WANNEROO
Top Level Plumbing is a locally owned and operated business providing complete bathroom renovation services in Morley and the surrounding suburbs. We will guide you through each step along the way of your bathroom renovations.
Honest, reliable, a keen eye for the smallest of details, and great quality work delivered on time, every time. These are the things that we stand for as a business, giving you nothing less than our best with every single job. Having worked in the industry for 20 years, we understand all the ins and outs of plumbing and strive harder to perfect our craft in each and every way.
Whether you're looking to improve the layout and design of your existing bathroom or a complete new bathroom, Top Level Plumbing can help. We do a personalised quote to suit your individual needs and budget.
For more information about our services - CLICK HERE
Top Level Plumbing Solutions can help you with the following services:
Bathroom Repair
Laundry Renovation / Addition
Bathroom Remodelling
Shower Repair
Shower Screen Repair
Toilet Repair
Sink Repair
Pipes Repair
Bath Installation
Toilet Upgrade
New Gas Fitting
New Hot Water System Installation
Whether updating your tapware, replacing a shower screen, an outdated toilet or an entire bathroom renovation, Top Level Plumbing can help.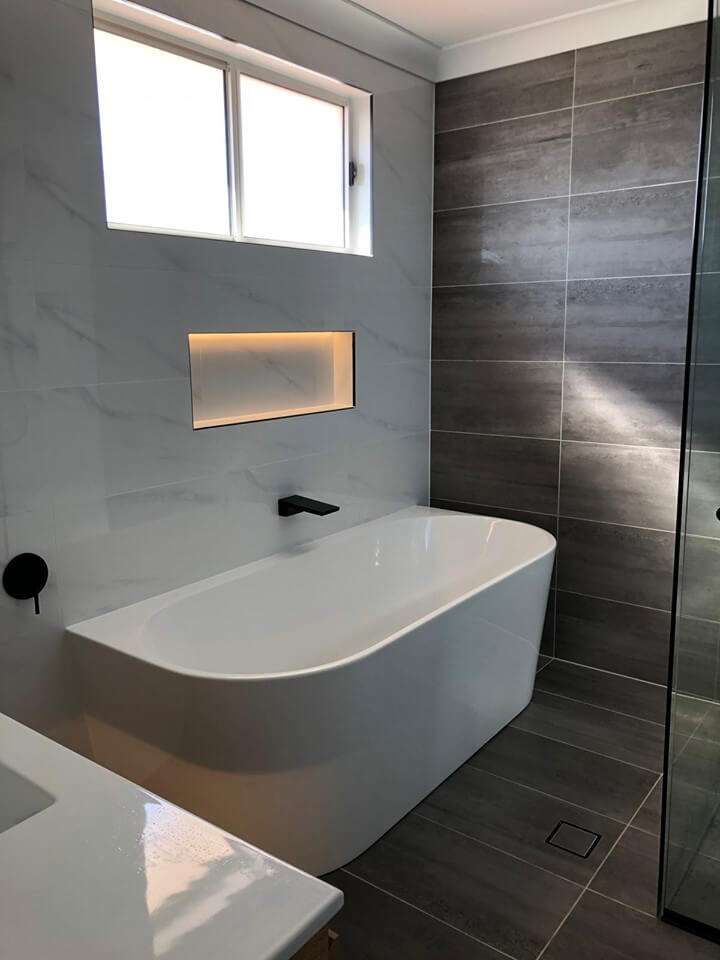 Quality & Affordable Bathroom, Laundry & Kitchen Renovations