Got a blocked drains in your Pimpana property? Call 0448 718 427.
We can clear all types of blockages
Plumbers Servicing Pimpana and the surrounding areas | Fast & Reliable Service
When you employ Sovereign Plumbing and Gas you are guaranteed an accurate and quality finish to what ever plumbing issue you have. With over 10 years experience, we'll have your job completed to code, cleaned and tidied, saving you time and money.
Blocked drains happen for a variety of reasons, but they're always a nuisance and could even result in damage to your pipes.
The most common causes of blocked drains are:
Hair
Soap
Fats / Foods
Sanitary Items
Dirt/leaves
Pipes Installed Incorrectly
Cracked / Broken pipes
Foreign Objects
Tree Roots
Common Signs of Blocked Drain Includes:
There is a difficulty when flushing the toilet.
The grates and gully which are connected to your washing machine are overflowing.
There is a gurgling sound when you are draining baths, basins, sinks, showers, and flushing your toilet.
The water level in the toilet is pulsating or lower than normal.
There is a foul smell emanating from the sinks.
With specialised equipment and decades of experience under our belt, everyone in our team has the skills and tools to tackle any plumbing job. All the plumbers at Sovereign Plumbing and Gas are qualified and meet OHS standards providing customers and employees with a healthy and safe place of work.
Sovereign Plumbing & Gas | Your Local Blocked Drain Experts Servicing Pimpana
Blocked drains usually make a gurgling noise through sinks, baths, and toilets, and can take your sink and shower water a long time to drain away.
Some cause of blocked drains is a build-up of silt and dirt or tree roots that have worked their way into breaks in the pipe.
Sovereign Plumbing and Gas can help you with any blocked sewer and storm water, toilets, showers, baths, basins, over flowing drains, bursts, grease traps and everything in between. We use the most effective up to date technology to locate, diagnose and clear blockages and if need be determine and carry out what repairs need to be done to your drainage system.
COMPLETE DRAINAGE SERVICES | YOUR LOCAL DRAINAGE SPECIALIST
BLOCKED DRAIN CLEARING & CCTV CAMERA INSPECTIONS
Unblocking a drain requires the right tools and experience. We use state of the art High-Pressure water jetters which cut through the toughest grease, root, and sludge as well as our smart camera system to make sure your drains are as clean as a whistle.
SEWER & STORM WATER REPAIRS
It's a messy job if you've got broken sewerage pipes or stormwater drains. It's not an easy fix, but it's a well trodden path for our team. We use high quality materials to extend the lifespan of your system, and ensure our work is in line with council regulations.
DRAIN REPAIRS & REPLACEMENT
If your pipes or drains are collapsed or damages beyond repair, we have the equipment and experience to fully replace your sink drains, pits and sewerage pipes.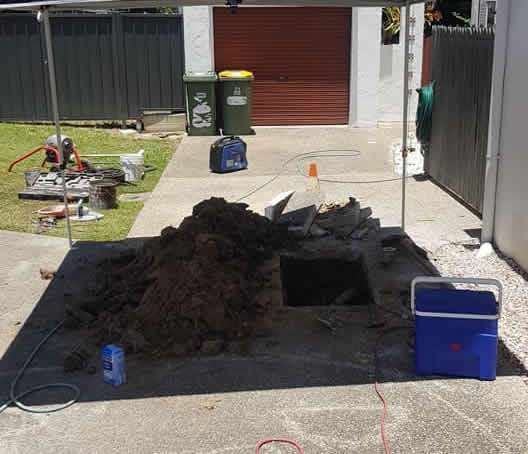 Sovereign Plumbing and Gas | QBCC 1296373 | Call 0448 718 427 | We have the knowledge and the tools to clear all types of blockages.