SAME DAY AIR CONDITIONING REPAIR & SERVICING IN INGLE FARM - CALL 1300 329 238
Beat the summer heat! Book your next aircon servicing with the Fawcett Group
We have the tools and experience for a reliable air conditioning servicing and repairs that'll have your system up and running as quickly as possible. We work with all major brands and air conditioning systems in Unley and the surrounding areas.
Experts in Multi head split system, split system, repair and installations, evaporative air conditioning, reverse cycle air conditioning. We take scheduled maintenance contracts for factories, offices, schools etc. We also specialise in replacing old air conditioners at best possible price.
SERVICING INGLE FARM - THE FAWCETT GROUP OFFER AIR CONDITIONING MAINTENANCE, REPAIRS, SUPPLY & INSTALLATION
We strive for excellence. Our professional and reliable staff are committed to a job well done, and we are proud to say that every job is. Client satisfaction is the ultimate goal, so we make sure you are part of the process.
Servicing all major brands in Ingle Farm and the surrounding areas, our technicians are just a phone call away, always welcoming new customers, both residential and commercial, with top quality service.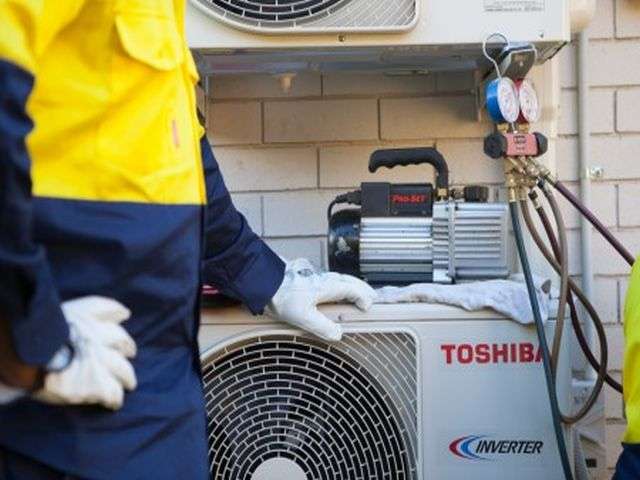 DIFFERENT TYPES OF AIR CONDITIONING:
Split System Air Conditioning
A split air conditioning system has two sections installed separately. The thermostat and the cooling system are installed inside the house in between the walls while the compressor and heating exchange components are located outside, insulated in a protected, weather-resistant container. A split system is one of the best air conditioners around since it is more powerful, less noisy, and boasts of more accurate temperature control.
Multi-Split System Air Conditioning
The main difference of this AC unit is the installation of different cooling units inside your house using a centralised or a single heating exchange system. It is economical if you are planning to cool more than one room without having to incur a much bigger electric bill.
Evaporative Air Conditioning System
Evaporative cooling is a type of air conditioning that is very popular recently. Instead of relying on a refrigerant to cool air, it uses the natural process of evaporation. Evaporative cooling has many benefits over conventional refrigerant-based air conditioning systems. Such as the Split System or Ducted Reverse Cycle.
Ducted Reverse Cycle Air Conditioning System
Put simply: reverse cycle refers to a style of air conditioner with both heating and cooling functions.
Reverse cycle is an air conditioner in which the refrigeration cycle can be reversed, producing heating instead of cooling. It's really two systems in one that work in a most efficient way together.
When the reverse cycle unit is in cooling mode, it works like a normal air conditioner.
Our service, repairs, and maintenance technicians have experience in a wide variety of brands of air conditioning systems. Need an air conditioning technician now? Call 1300 329 238!
services we offer: air conditioning repairs, ducted aircon servicing and repairs, evaporative air conditioning repairs, split system air conditioning repairs. Servicing Ingle Farm and the surrounding suburbs.